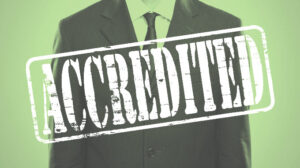 There is something weirdly contradictory about Rule 506(c) under Regulation D, which has been available for less than 10 years. Regulation D was adopted years before that as a safe harbor for private offerings under Section 4(a)(2) of the Securities Act. In other words, for companies who didn't want to undergo the costly and involved process of registering their offering publicly, they could do a simpler offering that's not marketed widely. That process is reflected in what is now Rule 506(b). However, Rule 506(c), even though it's within the rule that's supposed to be for private offerings, expressly permits "general solicitation or general advertising" – so, public marketing of the offering.
There are two conditions for the use of Rule 506(c) that aren't requirements for Rule 506(b):
1. Every single participant in the offering must be an accredited investor (up to 35 non-accredited investors can be included under Rule 506(b)); and
2. The accredited investor status of each investor must be verified, e.g., through examination of tax returns or brokerage statements, to confirm income or net worth, so, the company cannot just rely on a written representation by the investor.
…