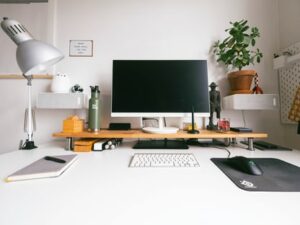 I can't claim to have invented remote work, but I can say that I was doing it well before the majority of the workforce was forced into it in early 2020. My firm's address, since its formation in 2010, has been at 565 Fifth Avenue in midtown Manhattan. For the first several years, I took the Long Island Railroad in every day and worked in my office, like any other lawyer. As the firm evolved, I built a network of freelance attorneys that worked for the firm. Especially given that the first two of them resided in Spain and Alabama, respectively, I was never going to need to provide extra space for the attorneys; accordingly, they worked from wherever they wanted.
After a few years of this, it occurred to me that without any opportunity for literal face-time with my co-workers, it was kind of silly for me to endure the commute on days where I had no meetings with clients or others. So, I set up shop in a spare bedroom at home in Port Washington, LI, and went into the city only when there were meetings. Aside from the occasional unwanted noise during conference calls from dogs or teenagers, it's worked quite well.
Thereafter, when I'd have conversations about what I do, with lawyers and non-lawyers alike, I would almost always get a response along the lines of: "I could never work efficiently at home, I'd just watch TV." My standard retort would be to remind the person that it's possible to waste time in one's office, wherever it is (all it takes is an internet connection), but I generally failed to convince people that what I was doing could work for them.
Fast-forward to now, and while it's a pandemic of historic and tragic proportions that forced people into remote work, it seems clear that the majority of workers prefer to work remotely for a significant portion of, if not all, of their time. When I started my legal career in big firms, attorneys would wonder whether it was OK to leave the office at, say, 7pm if they weren't too busy. We've gone from that to wondering whether young attorneys will be willing – at some point, maybe, in the future – to come in at all three or four days a week. A complete sea change in attitudes.
It should be clear by now that I have a bias in favor of remote work, but I am sympathetic to the concern that young workers in particular are missing opportunities to make connections with people early in their careers as a result of remote work. However, if it evolves that most people work in a hybrid manner, that would address most of these concerns. Also, it's probably too early for anyone to make confident assessments about the evolution of the new workplace – everyone is getting used to it, and technology will continue to develop to improve the remote work experience.