In my earlier post on the liberalization of general solicitation and advertising in Rule 506 offerings (to be effective September 23, 2013), I briefly mentioned the more stringent requirement, when general solicitation or advertising is used, for verifying each investor's status as an "accredited investor."  I'd like to get into more detail about what that entails.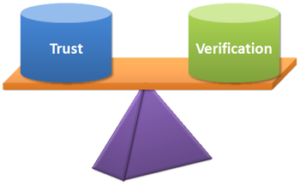 Current practice is for companies conducting Rule 506 offerings to have prospective investors check a box on a simple accredited investor questionnaire, and that is generally sufficient to establish the investor's accredited investor status without further investigation by the company.  Going forward, Rule 506 offerings that are not accompanied by general solicitation or advertising will continue to operate in the same manner.  However, when general solicitation or advertising is used, the company must take "reasonable steps" to verify each investor's accredited investor status.  This is a "principles-based" standard that is dependent on the facts and circumstances of the investors and the offering, but clearly a checked box on a questionnaire will not suffice.
The SEC provided in its final rule release a non-exclusive list of verification methods that will be deemed acceptable.  For example, to qualify under the income thresholds for individuals, investors can submit two years of tax returns showing sufficient income and a written representation that the investor expects to reach the threshold in the current year.  For the net worth threshold, the investor can submit items like brokerage statements accompanied by written representations about liabilities that are deducted from net worth.
As a practical matter, many investors will not be happy about having to submit such sensitive information directly to a company.  For that reason, the SEC permits certain trusted third-party intermediaries — a registered broker-dealer, an SEC-registered investment adviser, a licensed attorney or a certified public accountant – to certify accredited investor status to the company, using the appropriate verification methods.  This will likely become the default method for verification, taking the direct burden away from the company.