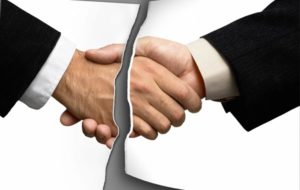 Although the majority of the transactions I advise on can be described as additive – one company acquiring another one, a company selling newly-issued stock to a new investor – I do spend some time on subtractive (is that a word?) matters, including business divorces. In its simplest form, this term refers to a decision of two business partners to wind down a business, often because some tension has developed in the relationship, just like a personal divorce.
As a purely transactional lawyer, I would only get involved in a business divorce if the parties want to resolve it amicably, without bringing a claim in court, though it can be useful to get the parties moving toward a solution to raise the specter of litigation and its associated costs and delay. In the world of family law, there are attorneys who specialize in collaborative or cooperative divorces, and I try to play a similar role in business divorces by encouraging compromise, even though I'm clearly representing one side and looking out for that party's interests. Any effort to achieve total victory in these situations is likely a fool's errand, or at least a very stressful and expensive errand.
In some business divorce cases, the company's operating agreement or other governing document sets forth an exit procedure that the parties follow. For example, a 50/50 agreement may have a so-called "shotgun" buyout provision that allows one party to initiate a buyout process by setting a value for the company, and then the other party has the option to either buy the initiating partner's interest or sell to the initiating partner, in either case at the price set forth in the initiating partner's notice.
If the parties are not following a particular pre-determined procedure, just mutually agreeing to wind down the business, then the parties likely need to draft a dissolution agreement, or similarly-titled document, that details the steps the parties need to take in the wind down. Especially in high-tension situations, the parties will want to exchange mutual releases of claims based on past events, though they would retain the ability to sue based on future actions to be taken under the new agreement, and a mutual non-disparagement clause, so the parties can move on in their respective professional lives without worry about their reputation being sullied by the ex-partner.