This is an update of an earlier post.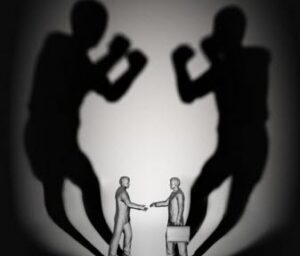 Over my 25 years of practicing transactional law, I've often been mildly (or sometimes not so mildly) exasperated by common inconsiderate behaviors by opposing counsel on my deals. Of course, our primary job as attorneys is to represent our clients and not befriend opposing counsel, but unnecessarily agitating other attorneys does not, in the long run, serve our clients' interests. The following are some frequently-occurring examples of bad corporate attorney etiquette to avoid:
Sending Uneditable Drafts. Often I will receive initial drafts of an agreement in PDF or read-only form. In other words, I can't easily get into the document to provide edits. Sometimes it's possible to convert the PDF to Word, but the formatting is garbled. Of course, I can provide the comments in other ways besides directly editing the document, but the point is that you've made it harder for me to do my job. If the intent in doing this is to discourage commenting, at least with me it may have the opposite effect, by reducing my trust of the other side. The time to create PDF versions is when both sides are in agreement and ready to execute.
Providing Comments in Installments. When you provide a set of comments, they should represent all of your side's input on the agreement, unless you state otherwise explicitly (e.g., the client is still reviewing, it's subject to tax counsel's review, etc.). When you've received a set of comments, you can decide with the client that of the, say, ten substantive comments, you'll compromise on five of them and push back on the remainder. If, however, the other attorney then announces that they have five new substantive comments that they could have raised earlier, then the universe of comments is larger than you had understood when responding to the initial set.
Feigned Outrage over Business Issues. Part of our role as attorneys in a negotiation is to negotiate legal issues, such as those that allocate risk, but we also are involved in business issues, such as the amount of a purchase price and timing of payment, by communicating our clients' positions and ensuring they're documented correctly. Most attorneys understand that, for those issues, they are mainly just the messenger, but some take their obligation to "zealously" advocate for their clients a bit too literally and lay on the rhetoric on an attorney-only call.
Inaccurate Blacklining. If you send your comments to an agreement with a markup showing your changes (which you should), please be sure that the markup actually shows all of the changes you've made from the appropriate previous version. As a matter of course, I run my own blackline on incoming revisions showing the changes that the attorney made, and fairly often, the blackline sent by the other attorney isn't accurate. Probably more often than not, this is an inadvertent failure of version control by the attorney, but it inevitably suggests the possibility that the attorney was trying to slip a change past you.
Failure to Explain Comments. If you're commenting on my draft, unless the changes are completely self-evident, don't just send the markup without explaining in a cover note where you're coming from. At the very least, offer to go through the changes in a subsequent phone call.