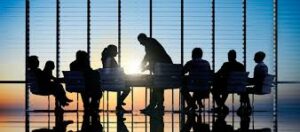 My law firm recently joined Select Counsel, a new and fast-growing network of law firms with profiles like mine: small firms founded by attorneys with significant sophisticated large law firm experience. The resulting network is not itself a law firm, but it provides a way for both lawyers in the network and interested clients to quickly locate highly qualified attorneys in appropriate jurisdictions and practice areas. The network has also established an active LinkedIn group enabling participating attorneys to run questions past other members.

When I am speaking to potential new clients, my pitch is pretty simple: I'm the same guy that would have handled your matter when I was with a big firm, but without the big firm infrastructure, I'm able to offer those same services at more reasonable rates and with more personal service. Fortunately, I've found that appeal works more often than not, and I've built a nice practice. Sometimes, however, potential clients will elect to go with a larger firm. Certainly, there are matters that are better handled by teams at large firms (multi-billion dollar merger, IPO underwritten by first-tier investment bank), but there are certain transactions that I'm capable of handling, where the potential client makes what seems to be the safer choice of a larger firm. (I don't want to come off as too harsh about big firms, where there are many fine lawyers – and they're a significant source of referrals for me!)
The Select Counsel arrangement has the potential to eliminate a lot of the queasiness that some potential clients have about small firms, in particular that their expertise is too narrow to handle anything but discrete projects. With the ability to quickly locate the right kind of attorney, it's easy to quickly assemble a team to collaborate on a matter. Of course, even before this network started, I had assembled my own ad hoc go-to team of specialists (tax, etc.), and I continue to rely on them. But the ability to fill in any gaps through the network will allow me and others in the network to replicate the geographic and practice area scope of a big firm, benefitting both me and my clients.