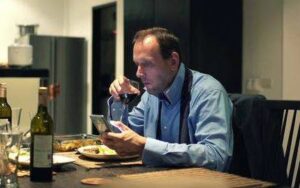 Eilene Zimmerman, whose ex-husband Peter died of a drug overdose, published an arresting account of his descent into addiction. Peter was a patent attorney at Wilson Sonsini, and Zimmerman ties Peter's story to a larger problem of drug and alcohol abuse in the legal profession. While I haven't witnessed much of this problem firsthand in my interactions with other attorneys, the problem identified by the article is that the culture at law firms leads attorneys to hide signs of weakness, so it's not surprising that I haven't seen it.
Among the many notable anecdotes in Zimmerman's account is that Peter never displayed photos of his family in his office because he was concerned that his superiors would view him as being distracted by his family. It doesn't really matter whether this fear had any basis in fact; the larger point is that he was suppressing what made him human to try to fit into the firm culture. Not displaying a family photo seems like a relatively trivial item, but this drive to maintain an image of self-sacrifice can lead to far more damaging behaviors. Ultimately, the need to avoid showing signs of weakness takes a toll, and may lead to self-medication.
How can lawyers avoid these issues? One solution is to, well, do what I did and start your own practice. There are plenty of challenges and risks associated with that route, but I can't overemphasize how much of a relief it has been for me to no longer be subject to scrutiny (real or imagined) from more senior attorneys who have control over my advancement and don't necessarily have my interests at heart. But I recognize that not all attorneys practice in an area that is amenable to independent practice. The only advice I can give to any attorney is to step back and reflect if you find yourself engaging in behaviors, like Peter's non-display of family photos, which would not be easy to explain to non-attorneys. Instead, rely more on your own sense of what it means to work hard and balance your work responsibilities with other life obligations. If that leads to you being less successful at your firm, so be it – that's probably not a healthy place to be at long-term in any event. Maybe I'm being naïve, but if you do good work and have the self-respect to lead a happy, balanced life, you'll eventually find a congenial work setting and do just fine.